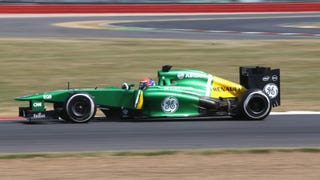 An American F1 team! Or the next best thing; a rich American with FIA permission to field an F1 team. USF1 taught us those are not the same thing, but if successful Haas Formula will need a pair of (hopefully American) drivers. Like NASA, the F1 skillset required to ride the rocket is extremely specific, leaving shockingly few qualified candidates.
Here then, is the Short List:
Alexander Rossi, 22- Why? Because he's been racing, with success, in Europe for virtually his entire career. He's been "the next American in F1" for about four years now, and is the only American driver in possession of an FIA Super License. He also has real world F1 experience, filling in on FP1 for the Caterham squad at the 2013 USGP where he comfortably outpaced the team's regular driver. Why not? He may have a binding contract to the Caterham F1 team which has supported him for several years now and currently supports him in GP2.
Conor Daly, 22- Why? Because he's also been racing, with some success, in European feeder series (GP3, and now GP2 where he's shown a pace comparable to Rossi) going on four years. Unlike Rossi, Daly hasn't spent his entire career in Europe and his success stateside has brought him a considerable U.S. following. And, oh yeah, his dad is former F1 driver Derek Daly and his stepdad is Doug Boles, president of the Indianapolis Motor Speedway, so he's what we in the business call connected. Why not? While Daly's success in the U.S. is unequivocal, his European record has been merely solid as opposed to spectacular (unless you count the Monaco thing, which was spectacular for all the wrong reasons).His European career is highlighted by a 3rd place in the 2013 GP3 series.
Josef Newgarden, 23- Why? Because he's a young, successful American Indycar driver (you can count these on one hand with several fingers left over) who won several championships on his way to the bigs, and because he has European racing experience as well. Newgarden won the Kent class (Ford Pinto motor) at the Formula Ford Festival, which is something Americans don't do very often. Like never. He also spent a valuable season in GP3, albeit without great results. Why not? Newgarden, despite being an Indycar driver, doesn't automatically qualify for an FIA Super License based on his career to this point, though one can imagine this wouldn't be an insurmountable obstacle. Additionally though he may be contractually bound to his Indycar team. Though again with the tenuous nature of many Indycar driver contracts, this might just require some (green) paper shuffling.
Marco Andretti,27- Why? Because Andretti. Grandfather Mario is basically a generic trademark for Speed in the same way the brand Escalator is for moving staircase. Mario's rich F1 history, as well as father Michael's less rich history, provides an historical precedent. Additionally, there's no lack of people, on both sides of the pond, who would like to see the Andretti name back in F1. Why not? Marco, besides also not directly qualifying for a Super License on merit, has not demonstrated sustained success at any level of motorsport, despite having perpetually competitive equipment. He has won two Indycar races (five years apart), but otherwise hasn't show the sort of consistency and pace expected from F1 candidates.
Graham Rahal, 25- Why? Because Rahal. Father Bobby is a veteran of two F1 races, but is much better known as a three-time Indycar Series champion and 1986 Indy 500 winner. Graham currently drives for his father's Indycar team and Bobby, a former F1 team principal, has many European connections. Why not? Like Marco Andretti, Graham Rahal has not experienced consistent success in his racing career. He has a lone Indycar victory, from 2008, which is a lifetime ago in open wheel racing.
Ryan Hunter-Reay, 33- Why? Because, as the 2012 Indycar Series champion he's the poster child for an American racer making it on merit. He has nine wins in the Indycar series, and hasn't always been in the best equipment. Why not? Because Andretti. His Indycar contract with Andretti may preclude him making a switch next year. Also, his nearly complete lack of European racing experience won't be seen as a plus, and his age will work against him.
J.R. Hildebrand, 26- Why? He owns two Mazda Road to Indy Championships (USF2000 and Indy Lights) and came within one corner of winning the 2011 Indianapolis 500. He has a strong resume, he's the right age, and isn't bound to a contract. Why not? He isn't bound to a contract, as in, he's unemployed. He was dropped by Panther Racing mid-way through 2013. Panther Racing admittedly has a history of making dodgy decisions, so while his employment status may not be entirely reflective of his ability, Hildebrand's results can't be said to have exceeded Panther's expectations. Additionally, Hildebrand is considered to be something of an oval specialist, or at the very least Panther placed more effort into their oval races. This provides a certain amount of opacity for anyone trying to ascertain Hildebrand's road racing talent.
Joey Hand, 35- Why? Let try Who? Hand is an American sports car driver currently racing in the German DTM series. Hand is a former Pro Mazda series and ALMS GT series champion who also owns overall victories from the 24 Hours of Daytona and two class victories from the 12 Hours of Sebring. Hand had such a spectacular year in 2011 that BMW hired him as the only American driver in the DTM, a series which launched the F1 career of Paul Di Resta. Why not? His age is almost certainly a deal killer, but his lack of recent open wheel experience is nearly as problematic.
Patrick Long, 32- Why? As a career Porsche factory pilot, Long is a 3-time ALMS GT2 champion and has two 24 Hours of LeMans class victories, and that's just the begining of his very deep resume. He has at least as much European racing experience as any other candidate, and perhaps most uniquely, has that uncanny ability to simply win races, with 23 victories in ALMS alone. Why not? Because Porsche. Long showed early maturity by taking Porsche up on a career making employment offer rather than taking his chances in the open wheel driver market. This decision has been vindicated multiple times over, and if he was that mature in his early 20s it's hard to imagine him making a different choice for his future with the benefit of a little hindsight. Additionally, he was overlooked for Porsche's upcoming LMP1 program so we're left wondering if perhaps his strength leans a little more towards consistency than outright pace.
Who else? Well, as I said in that earlier article, things get a little grey after this. There aren't really any American drivers on the Mazda Road to Indy who would have an F1-ready resume at the end of this season, to say nothing of the qualifications for a Super License. Matthew Brabham might seem to be the closest, and he does have a bit of European experience as well as family ties owing to his grandfather Jack Brabham, a 3-time F1 World Champion. Unfortunately, Indy Lights isn't a well regarded series on the continent (or really, any continent, considering that it frequently has as few as nine competitors in a race) and so far this year a previously unheralded Zach Veach has been taking young Brabham's lunch money.
Jonathan Summerton was previously considered and possibly contracted to the doomed USF1 program, but hasn't seen much action in several years and therefore it's hard to see him being promoted directly from near obscurity to Formula 1.
Spencer Pigot looks like he might not give the rest of this year's Pro Mazda field enough air to breath considering how dominant he's been, but he looked quite the opposite last year in the same series when faced with Matthew Brabham. I'd say he has something to prove before he winds up on Gene Haas's speed dial. That said, he's smart, good-looking, and has been making news for at least 10 years, so while he won't be in F1 next year, never say never.
Jake Eidson is a couple years away from being a legitimate F1 prospect, but if he wins the USF2000 series this year, as expected, it will be his fifth championship on the trot, and he'll undoubtedly be viewed as one of the strongest talents to come from the U.S. in quite some time.
Languishing without a ride this year are Nick Neri and Danny Formal, two of the strongest karters in U.S. history. Their karting resumes would be the envy of much of the current F1 field, and probably the entire Indycar field, but in racing that it doesn't necessarily translate. They aren't ready for F1 yet, but if I were Gene Haas though I'd be looking at these two, as well as Eidson, to cultivate future talent on the cheap.