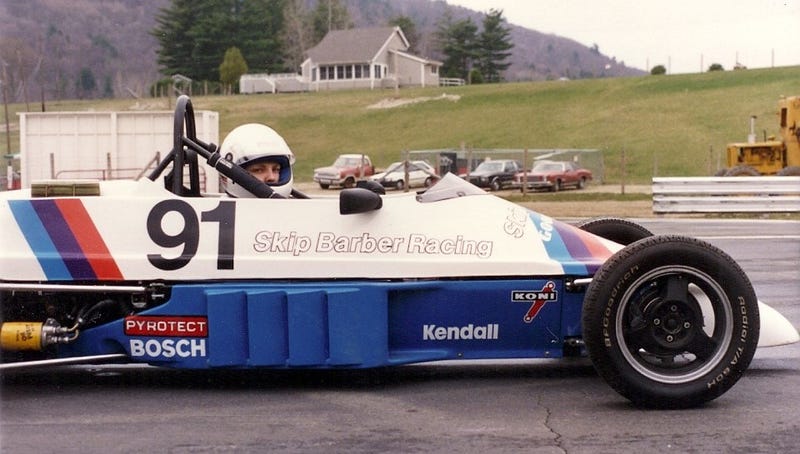 So you want to be a professional race car driver, but you don't have actual racing experience, there are no billionaires in your family and a fracking company didn't just knock on your door. I've got just the thing for you, and it's not a psychiatric evaluation. It's called the Skip Barber Racing School Indycar Academy.
The SBRS Indycar Academy is principally a talent search for people of any age without karting or racing experience. If this sounds more like a no-talent search, or if you're wondering in what altered reality a Walter Mitty could become the next Sebastian Vettel, the answer isn't as straightforward as you might think. As of this writing the winner of last year's inaugural Indycar Academy, Andre Gomes, is in a close second place in the 2013 Skip Barber Summer Series with two weekends to go. So much for the 18 y/o kids with 16 years of karting experience.
However, more than proving that God has a sense of humor, it reinforces Bernie Ecclestone's suggestion that the fastest driver in the world is probably an unknown kid in Siberia. Which is pretty much the same thing.
As with all talent searches, it's not for nothing as the top prize is a full season in the Skip Barber Race Series worth in the neighborhood of $50K, with 2nd and 3rd place each earning enough 'Skippy Bucks' for a partial season.
The 'Indycar' part of the Academy is what comes next. The top five finishers in the SBRS Winter and Summer Series receive invitations to the Championship Shootout at the end of the year where the winner receives a scholarship of $200,000.00 to compete in the USF2000 series. In turn, The USF2000 champion wins a Pro Mazda ride the next year, and the Pro Mazda champion receives an Indy Lights ride.
You can probably see where this is going; the Indy Lights champion receives a good portion of an Indycar budget and so far six of the last seven Lights winners, including Jalopnik's own Alex Lloyd, have made their mark in Indycars. This ladder system is known as the Mazda Road to Indy, and it's unique in the entire world of racing. It's possible for anyone, with very little money, to make it to Indycar on talent alone. You just have to win everything in sight for four years. In a row.
The Mazda Road to Indy has existed for a few years now, so it's not exactly new. However, the creation of the SBRS Indycar Academy means that now your average Joe or Jolene doesn't have to find $50K to get on the first rung of the ladder.
If the Indycar Academy sounds intriguing, you're not alone. After consulting my sponsor, excuse me, my spouse, I threw my helmet into the ring for this year's academy.
I found the "What if?" factor a bit much to avoid. I grew up wanting to be a racecar driver. As a teen I worked in a race shop alongside a guy who's now a Grand-Am team owner. I've taken the Skip Barber 3-Day school more times than college algebra, as well as an SCCA school, and even won my class in the One Lap of America (which fortunately didn't disqualify me from the Indycar academy because it's not wheel-to-wheel racing). So in this regard I'm a bit like a college professor; lots of education but with very little job experience.
Then there's the pathological component; as a clinical addiction, racing makes heroin look like Ben & Jerry's. It's a disease, and I've been a carrier my whole life. Full disclosure; I admit to infecting others. A One-Lap co-driver that I got involved now owns more Time-Attack championships personally than most manufacturers, but it's cost him two well-paying professional jobs.
I think I have a few things going for me; when I attended my first Skip Barber school at Lime Rock, at age 18, I discovered I was the fastest driver on earth. Or at least I was pretty sure. I never really got to prove this, but legendary instructor Bruce MacInnes told me I was going way too fast for my level of experience and that I was going to crash. Naturally, I took this as a high compliment. A few minutes later, on The Lap of the Gods, I went off at the bottom of the downhill, completely defoliating the runoff area. As Bill Murray said in Caddyshack, "So I got that going for me, which is nice."
What I don't have going for me, is time. That Lime Rock school was in 1988, which for those of you keeping score at home means I'm forty-four years old.
Forty-four is a funny age; on Facebook half of my high school class look like senior citizens, and the other half don't appear to have aged much at all. I'll settle for calling myself young at heart, though my wife might say underdeveloped. I guess I've always been a late bloomer, and as much as this sucked in high school (and it sucked a lot), I'm pretty grateful at this age.
Fortunately I'm still in shape, and at 5'7", 150 lbs I'm pretty much prototypical race car driver size. Of course, there are a lot of people my size that can't drive a golf cart, so I'm not sure how much this really helps.
It's a little difficult to have long term racing expectations at this point (hell, it's hard to have short term racing expectations), so I've limited my focus to just trying to win the Indycar Academy. This won't be easy as I'll be competing against 32 other drivers (Indycar academy, 33 drivers, get it?), so on the face of it I have a 3% chance. Which sounds nuts.
This is where rationalizations really help. Or statistical analysis. Again, pretty much the same thing. Here's my logic; in order to enter any racing contest a person must believe they have a shot at winning, and I do.
Factor in the Pareto principle (the 80/20 rule which dictates that 80% of the productivity in a competitive endeavor is accounted for by the top 20% of participants) which is one of the truest things I've come across in my life (I'm sure Fibonacci is awesome too, but damned if I can ever figure out an occasion to use it) and it means that in reality only about 7 people have a legitimate shot. By believing I have a shot it makes me one of the seven. I have no idea if this has any statistical value, but one out of seven makes me feel a whole lot better than one out of thirty-three.
First though, I have to qualify. In order to be considered for the Indycar Academy you have to start with a Skip Barber 3-Day Racing School and a 2-Day Advanced Racing School. From there your performance is evaluated and you either get an invitation or you don't.
I have my work cut out for me. I start by scheduling yet another 3-Day School, which will be my third (I took one on a lark in 2005, and somehow MacInnes was my instructor again, 17 years, and a number of home-made airplane crashes later), and explain to the wonderfully helpful SBRS customer service rep, Scott, that I have ambitions toward the Indycar Academy.
Scott gets me scheduled for a 3-Day School on the Sebring short course, which not coincidentally is the course SBRS will use to evaluate the Indycar Academy field in November of this year.
This is particularly fortunate as I live in Orlando. I've been to the 12 Hours of Sebring (and boy have I), as a spectator, reporter, and even as a minor sponsor, but I haven't spent any quality time on the track. The whole thing should be a hell of an adventure.
And that's the point; when evaluating the Indycar Academy and trying to make sense of it in the context of my life, a quote from Hunter S. Thompson came to mind: "Buy the ticket, take the ride."
Next- the 3-Day Racing School, the 2-Day Advanced School, and the phone call.
Keith Ori
Twitter: @keithori
Photo: By David Ori of Author, Lime Rock, 1988