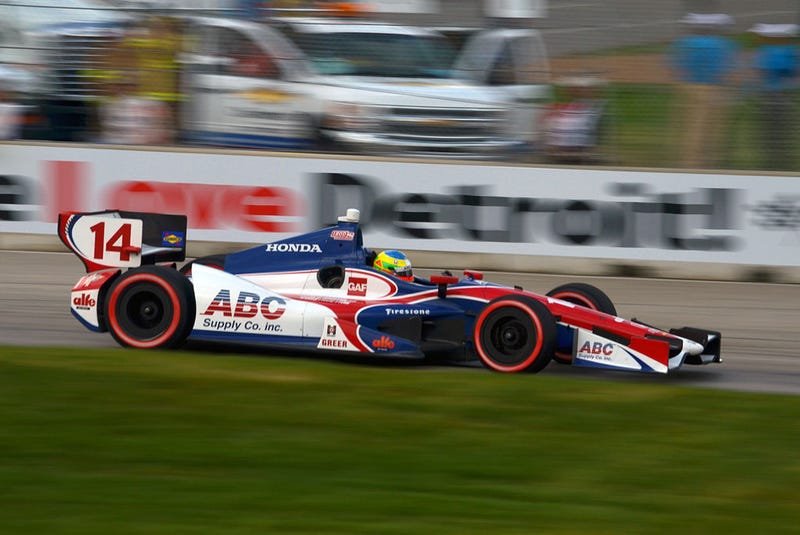 A basic prerequisite for becoming a professional Indycar driver is winning junior level championships, right? Not so much. With the exception of SCCA amateur racing or a Skip Barber regional series, eight out of the 25 drivers listed on the Indycar site as competing this year have never won an automobile racing championship.
Oh, and the names Andretti, Rahal, and Hinchcliffe are on that list.
Conversely, winning a string of junior championships is guarantee of absolutely nothing. This is exactly the opposite of how the world functions outside of motorsports. In fact, for those keeping score at home, three of the last four Indy Lights champions, J.K. Vernay, Tristan Vautier, and Sage Karam remain unemployed in Indycar. The problem is that Indycar teams haven't exactly been in talent search mode lately; what they have been searching for is money and the $600,000.00+ prize that comes with winning Indy Lights apparently doesn't even get you into the conversation. This must be particularly galling for Karam, a sponsor friendly 19-year-old American who, after a storied karting career, went on to win two of the three championships on the Mazda Road to Indy.
How does this compare other series, such as Formula One? Out of 22 drivers in F1, only one driver, Max Chilton (his father owns a GP2 team) has failed to win a championship on his way up the ladder, while most have won several. In fact, according to Wikipedia, Team Lotus driver Roman Grosjean won seven championships before graduating to F1. Seven. That's insane.
Sure, a driver can still have success in Indycar without winning a championship on the way up; Marco Andretti, Graham Rahal, James Hinchcliffe, Ed Carpenter, and Charlie Kimball have all won Indycar races. The problems is that, for various reasons, they all have long odds on winning this year's Indycar Championship. The season preview at Autoracing1.com lists Hinch most favorably among this group at 8/1, with Marco at 14/1 and the odds for everyone else falling steeply from there. Of the remaining three drivers that have never won a championship, Munoz, Saavedra and Huertas fare no better than 40/1.
I'm not being a hater; all of these guys are good drivers, all of them (with the possible exception of Carlos Huertas) are a lot faster than you and me, and all of them are crazy/stupid brave to race at 220 m.p.h. on ovals such as Texas and Indy. But none of them have won a championship, and nobody is expecting any of them to be contenders for the Indycar Championship anytime soon.
The smart money this year, of course, is on either Scott Dixon or Will Power to win the championship. Unsurprisingly they have seven junior titles between them.
What does the relative lack of championship winning drivers mean at the end of the day? You can decide, but for some contrast, check out the 1999 Champ Car field- the driver's list looks like a goddamn All-Star game. That racing was the stuff of legend; a much younger Montoya at Indy, Zanardi at Laguna, Paul Tracy everywhere. They put butts in seats and eyeballs on TV. Perhaps just as importantly, they also put posters on kids walls. Somehow I'm unconvinced that's happening as much these days.
What it could mean is when graying Penske and Ganassi drivers Kanaan, Montoya and Castroneves retire (all of whom are 38 or older), those teams- the ones that actually pay drivers- might be hard pressed to hire championship contenders from within Indycar. But it won't because championship winning talent hasn't been knocking on the door, only that nobody was home when they did.
Follow me on Twitter @keithori
Photo: Creative Commons